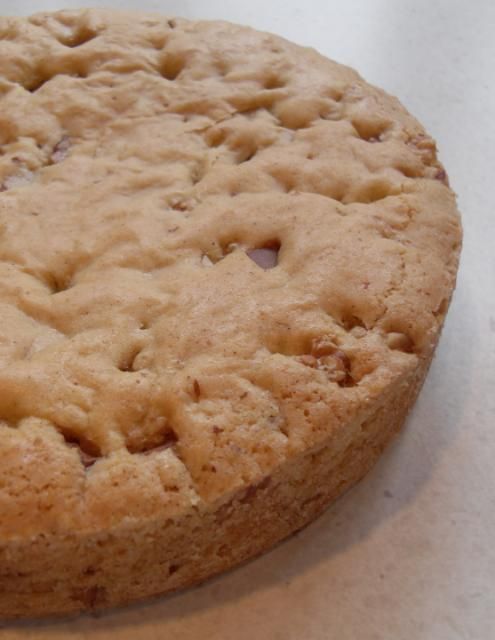 I have a lovely dessert I wanted to re-share with you here this morning. This is a pirate's treasure! This is sooooo easy even the kids can make it, with your supervision of course! It started off as squares, but I thought, why not bake them in a round pan and cut them into wedges like a pie to serve.
And then I thought, why not top them with some ice cream and chocolate sauce and turn them into Sundaes!!! This one's for all the families out there that are looking for something special to do this weekend, or for a special Family Home Evening treat!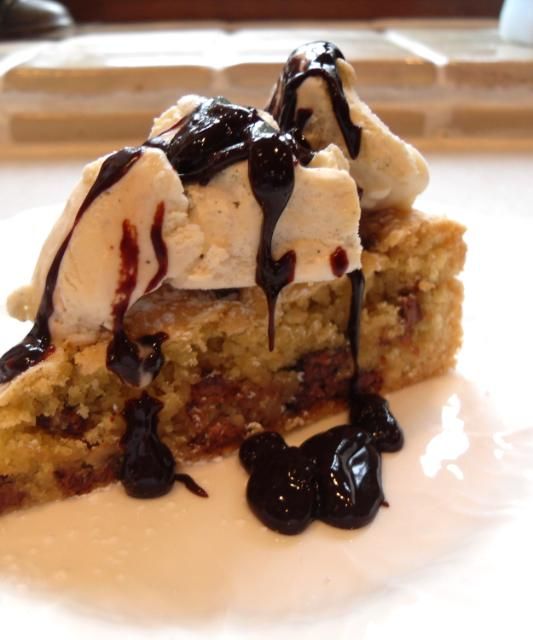 *Chocolate Chunk Sundae Delight*
Serves 8
Printable Recipe
A delicious chocolate chunk cookie wedge topped with a scoop of vanilla ice cream and a drizzle of chocolate sauce. Moreishly delish!!
1 1/2 cups flour
1 1/2 tsp baking powder
1/2 tsp salt
1 cup sugar
1/3 cup vegetable oil
2 eggs, lightly beaten
1/2 cup chopped nuts
2 cups semisweet chocolate chunks or chocolate chips
For the topping:
Icing Sugar
a good quality vanilla ice cream
a jar of chocolate spread
(I used Waitrose brand)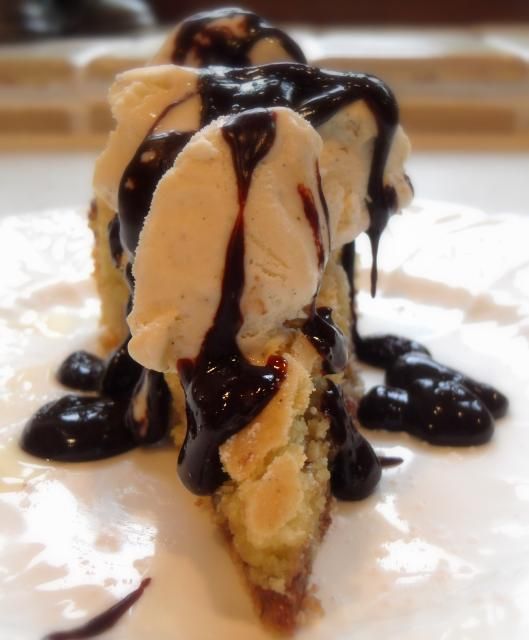 Pre-heat the oven to 180*C/350*F. Grease and flour an 8 inch cake tin with a removable bottom. Set aside.
Whisk together the flour, baking powder, salt and sugar. Beat the vegetable oil and eggs together in a measuring jug and add all at once to the flour mixture. Beat until throughly combined. (The mixture will be very thick) Stir in the nuts and chocolate. Scrape the dough into the prepared pan and smooth it out evenly with your fingertips.
Bake for about 30 minutes, until the top is golden brown and a toothpick inserted in the centre comes out clean. Remove from the oven and allow to cool in the pan for 15 to 20 minutes. Then remove the sides.
Warm the chocolate spread in the microwave until spoonable. Cut the chocolate chip cake mixture into wedges and place one wedge on each plate. Dust lightly with Icing Sugar if desired and serve with a scoop of vanilla ice cream and some chocolate sauce spooned over top.